Hey folks!
Normally I'm an animator but about six months ago I started recording and streaming games to a separate channel. Mostly for the purpose of getting through my Steam backlog. As of this OP, I'm at 72.6% on Steamcompletionist. Though that's a high number, it's still a long way to 100%.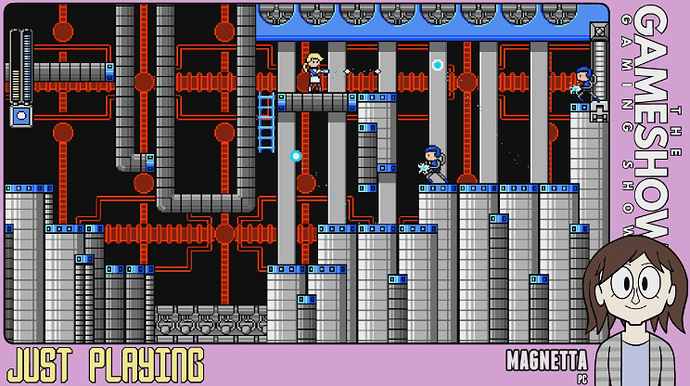 How it are is do??
I primarily play indie games… well, being realistic here, I pretty much only play indie games, for now. It's where the majority of my backlog resides and it's also where I tend to have the most fun, playing through either awesome stuff or earnest well-meaning trashy games. I have fun either way. Also sometimes I play HIDDEN OBJECT GAMES…
I tend to play games relatively quickly, but I still try to do so in a chill and relaxed manner. I will do my best not to shout or be too silly. Usually the games do a good job of that on their own. I am still learning the ropes of LPs and getting used to speaking into the void. Sometimes I spend half of a video failing the same thing over and over again until I succeed. Sometimes I edit that out, sometimes I leave it in because I think it's funny. I dunno. I DON'T KNOW! I suppose it depends on whether I clear a specific shame threshold.
Stream schedule:
No schedule set in stone right now although I plan on setting a defined day soon. When I do stream it is sometimes unannounced, or spur of the moment. Pretty much always it's at night, and sometimes late at night (if you're on the east coast of America, anyway). So a stream might start as late as 1 AM ET.
When I stream it will beeeeeee… HERE!!!: http://www.twitch.tv/mattwilsoncss
Archived Playthroughs.
So far I've beaten 78 games for the channel since I started a little over 5 months ago. I am a little behind on sorting them all into playlists but you can find them at http://www.youtube.com/c/TheGameshowGamingShow along with the occasional animation if I ever have time (my actual cartoons are on a separate channel).
I've only just recently gotten an overlay that I'm happy with, older videos unfortunately may have an overlay that covers up stuff. I'm still learning!
Chat rules?? Can I be a bad person?
No!!! Stop that right now! Let's be good cool and cute. I'm chill about playing games, I'm not an expert game player, so be chill also.
Recent LPs