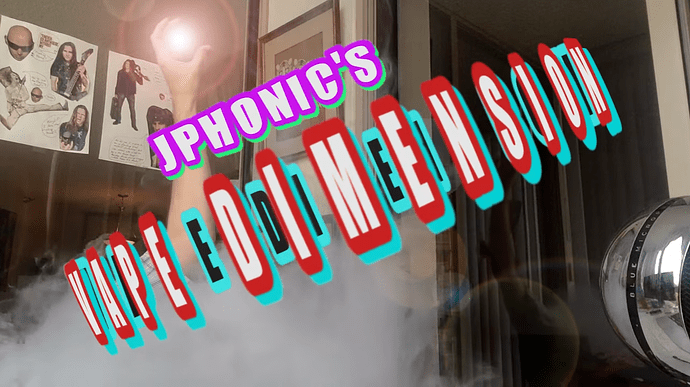 What's up crabcakes!!! It's ya boy JPHONIC: the ghost with the most, the vaper with the paper!! !!! Welcome to LPZone's UNAUTHORIZED VAPING THREAD, made personally for you by yours truly, the man what always got your back, the grandpa of Ohm's Law: JPHONIC!
Post pictures of your rig! Talk about your favorite e-liquid! Share your story about quitting smoking! Ask questions about battery safety, nicotine strengths, advice on quitting smoking, whatever! Just follow the following easy rules and chuck some

s.
THREAD GUIDELINES:
This is a thread for discussing vaping as a hobby and as a smoking succession aid. This is not a place to shit on vaping or make fun of people who are into it. There's a lot about vaping and the surrounding culture that is inherently ridiculous and we can embrace that while also acknowledging vaping's capacity to help people quit smoking.
No rig judgement. Not everybody needs to blow fat stacks to enjoy vaping. If you think someone is dumb for being satisfied with an iCare and not a 200W Snow Wolf or whatever, go back to Reddit.
No minors (how'd you get here???)
Affiliate links must be disclosed
Additional rules will be added as necessary
HELPFUL LINX:
Steam Engine – An extremely useful tool for calculating coil resistances, amp limits, Ohm's law figures and a handful of other useful tools.
JuiceDB – Good resource for discovering e-liquid manufacturers and for finding sales. Probably full of affiliate links and planted reviews though so always try to independently corroborate claims with a li'l googlin' when possible.
ONLINE RETAILERS I'VE USED AND TRUST:
I smoked 1/2 to 1+1/2 packs a day for 10 years before I finally managed to quit with vaping. I had tried patches, gums, lozenges, prescription medication and willpower, and vaping was the only thing that stuck. I've been smoke free for just over three years now and I really believe in this as a thing that can help people change their lives for the better.