TIME IS POWER
Caught in an experiment that fractures time itself, two people find they have changed and gained extraordinary abilities. One will sacrifice everything to ensure that humanity can weather the storm and survive the End of Time. The other is determined to fix time before it tears itself irreparably apart. Both face overwhelming odds and make dramatic choices that will determine the shape of the future.
TIME IS THE FIRE IN WHICH WE BURN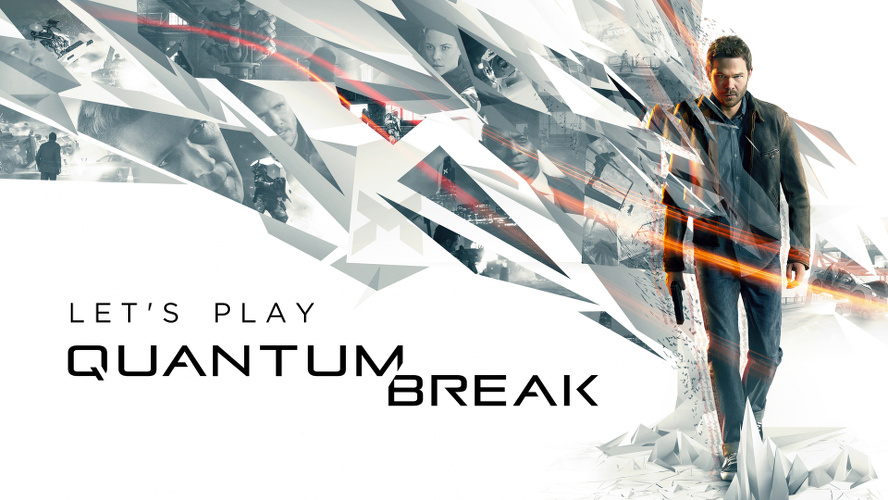 Quantum Break is an action-adventure third-person shooter, with time-based superpowers and occasional platforming. It was developed by Remedy Entertainment (the makers of Max Payne and Alan Wake) and was published by Microsoft Studios.
The game was first released in April 2016 for Xbox One and PC. The PC version was originally exclusive to the Windows 10 store, and had a number of technical issues, though they were mostly fixed by subsequent patches. In September 2016 it was released on Steam, and the Steam version has better performance and is not limited to running on Windows 10.
Quantum Break has fantastic visuals, with especially realistic characters and environments. The game was designed to look spectacular on Xbox One or a PC on 'Medium' settings, while on 'Ultra' settings the PC version looks almost photorealistic, though that comes at the cost of bringing even high-end computers to their knees.
The most impressive effects occur during events known as 'stutters', time anomalies where the world freezes and distortion waves of prisms and fractals sweep through the environment. During stutters most people and objects are motionless, but some objects experience temporal loops or become unstable, resulting in scenes of chaos and destruction that skip or rewind in broken time. The graphical and audio effects led to Quantum Break being nominated for awards for outstanding visual effects and best use of sound.
It's a game, and it's also a TV show!
When Microsoft launched the Xbox One they emphasised the idea of it being an entertainment hub, a home for television shows and movies as well as games. Remedy were able to use Microsoft's multimedia aspirations to get a huge budget for an ambitious transmedia experiment, making Quantum Break part game, part live-action show. Between each act of the game we get to watch a 20-minute episode of a live-action television series. While the game is about the heroes, the episodes show what is going on from the perspective of the villains. There are multiple versions of each episode, allowing the events of the show to change according to the choices we make during gameplay.
Both the game and the show feature a great cast of actors and actresses recognisable from X-Men, Game of Thrones, Fringe, The Wire, Lost, True Blood and more.
⧗ THE LET'S PLAY ⧗
I'm playing the Steam PC release on the Hard difficulty setting, and I am doing a thorough 100% playthrough in which I shall endeavour to show off everything that there is to show off, including finding all the collectibles, fully-upgrading all powers and getting all the achievements.
By the way, I also have a thead on the SomethingAwful forums. In fact I only just discovered Let's Play Zone, I'm delighted there's now another great LP forum!

NO SPOILERS

Please do not post any spoilers! If you aren't familiar with the game then feel free to speculate about what's going to happen. If you already know and you notice that someone has speculated correctly, don't draw attention to it.
⧗ Decisions will be up to you, the viewers! ⧗
Before each live-action episode there is a 'Junction Point' where we will briefly switch from playing as the hero to playing as one of the villains, and we will get to choose what the villain should do. The choices we make will affect events in the live-action show and may also cause small changes throughout the rest of the game.
There are four of these Junction Points, and when we come to them there will be a poll for you to vote in. The winning choices will be used in the main playthrough, while the other options will become an 'alternate timeline' that I'll show off in bonus videos.
Video Quality
I am rendering and uploading videos at Ultra HD 1440p resolution to take advantage of YouTube's higher bitrate for 1440p (2K) videos. For the best visuals during scenes with lots of special effects I recommend choosing the 1440p quality setting if it is available on your device, and if your internet bandwidth can handle it. Even if you don't have an Ultra HD (2K or 4K) screen you can still benefit from the better picture quality that comes with the higher bitrate.
When it comes to the game's graphical options, I've gone for the 'Ultra' graphics preset, except I've turned down Screen Space Reflections from High to Medium. (This significantly improves performance while making very little visual difference.) I've also turned off 'upscaling' and 'film grain' to give us the sharpest visual quality.