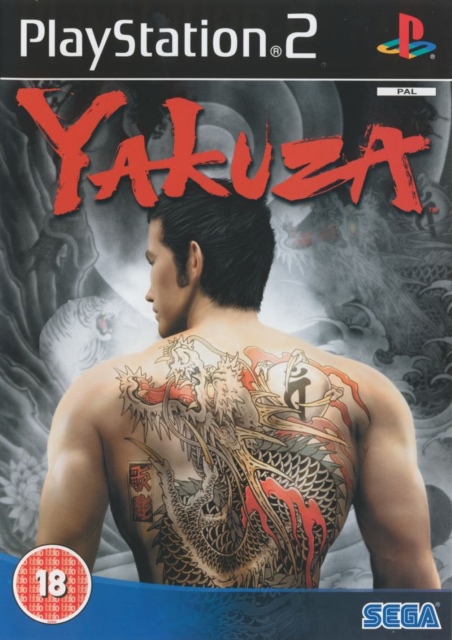 About the game:
Yakuza, or Ryu ga Gotoku (Like a Dragon) is a series of sandbox beat 'em up games by Sega. The series started with the original Ryu ga Gotoku in 2005, and that PS2 game was then localized (and dubbed into English, with 3000% more swearing) and released outside Japan as Yakuza in 2006. The series is known for its gangster melodrama, plethora of sidequests and activities in the open world, and manly men having fist fights. While all of that stuff is already present in the original game it's not quite as packed with content or as over-the-top as the later entries in the series.
Still, this is an engaging story and well worth experiencing, even though the original PS2 release hasn't aged particularly well. The gameplay generally alternates between charmingly janky but satisfying and "JESUS CHRIST WHY THE FUCK ARE YOU PUNCHING THE AIR AND NOT HITTING THIS MAN IN FRONT OF YOU YOU MORON"
The main protagonist of the Yakuza series is Kazuma Kiryu aka the "Dragon of Dojima", who at the start of the first game is a young yakuza lieutenant on the cusp of starting his own family in the Tojo Clan… at least until he goes to prison for a murder he didn't commit. When Kiryu is released on parole and returns to the Tokyo red-light district of Kamurocho (a fictionalized version of Kabukicho) ten years later, he's dragged right back into the politics of the criminal underworld as the Tojo Clan searches for a stolen 10 billion yen.
Oh, and Kiryu's best friend is now a ruthless villain, and the woman Kiryu loves has been missing since he went to prison. That's probably something we should look into.
About the LP:
If you watched my Grand Theft Auto IV LP a couple of years ago, expect a similar style here - fairly informative but laid-back solo commentary (with the occasional co-commentator showing up), no talking over cutscenes unless otherwise noted, no 100% completion but showing off all the interesting stuff I can manage.
This time I'm even playing a game I don't actively hate, so maybe I won't sound completely dead inside (more so than usual, that is) throughout the second half of the LP! Well, I make no promises for the parts with all those annoying boxer and kickboxer enemies that dodge constantly, those fights were painful to watch while editing.
Boring tech stuff only I care about:
I'm playing my copy of Yakuza on a PAL PS2 with component cables, upscaled to 1080p using a Micomsoft Framemeister. The end result doesn't match the Japan-only PS3/Wii U HD remaster since the resolution is simply upscaled from 480i and deinterlaced, but this is still pretty much the best this game can look on original PS2 hardware. Well okay, my component cables are cheap and a bit shoddy so the quality is slightly lower than you'd get on the official cables, but the difference isn't worth the €50 extra cost.
The PAL version of Yakuza also has a few subtle differences to the North American release, but they're mainly interface-related and nothing that affects the actual game content. It also supports 60Hz mode, so I (and you) get the full 30 fps experience rather than 25 fps PAL bullshit.
All in all, I set out to create the best-looking Yakuza 1 LP you're going to see - certainly on original PS2 hardware, and while I nailed the image quality I slightly screwed up with the aspect ratio. Before widescreen displays became the standard, you often had to adjust the image yourself to fill the 16:9 ratio, and that's what I failed to do here until the halfway point so everything is ever so slightly too skinny. Feel free to point and laugh at my incompetence! (seriously though, the discrepancy is not that bad and I doubt most would even notice)
Hey, this looks familiar!
There have been a couple of VLPs of the original Yakuza over the years and ChaosArgate is currently doing the PS4 remake, Yakuza Kiwami. I asked ChaosArgate if he was okay with me LPing the original at the same time, and not only did I get the go-ahead but also got him on board as an occasional guest commentator! That said, more Yakuza content is always a good thing, and as I was recording footage from the original game for a retrospective article I figured I might as well do an LP.
Since this wasn't originally planned as an LP, I spent the first couple of recording sessions clicking through some of the unvoiced dialog super fast, but I eventually stopped doing that (you'll be able to see the exact point I decide this is an LP). In the meantime, I'll summarize any dialog I skip through, so you won't miss out on anything.
Finally, NO SPOILERS. Yeah, the game is old, but there's still a pretty good story here.
THE VIDEOS
Episode 01: Dragon Attack
Episode 02: Ten Years
Episode 03: Blood on the Dance Floor
Episode 04: Funeral of Fists (uncut commentary feat. ChaosArgate)
Episode 05: Bacchus
Episode 06: Somebody Put Something in My Drink
Episode 07: Mizuki
Episode 08: Improper Dancing
Episode 09: Haruka
Episode 10: Bar of War
Bonus 01: Ryu ga Gotoku HD Edition (PS3)
Episode 11: Brawl for All (uncut commentary feat. ChaosArgate)
Episode 12: Mad Dog at the Bat (uncut commentary feat. ChaosArgate)
Episode 13: Chapter 6 Substories, Part One
Episode 14: Chapter 6 Substories, Part Two
Bonus 02: Komaki's Training
Episode 15: Young Hearts
Bonus 03: Coliseum Battles, Part One
Episode 16: A Stray Child
Episode 17: Dragon and Carp (slightly

)
Episode 18: Take Your Daughter to Work Day
Episode 19: Chapter 7 Substories, Part One
Episode 20: Haruka's Trust (Chapter 7 Substories, Part Two)
Episode 21: Brothers of the Oath
Coliseum Battles, Part Two
Episode 22: Streets of Rage
Episode 23: Wife of a Yakuza
Episode 24: Tokyo Highway Battle (uncut commentary feat. ChaosArgate)
Episode 25: Turning Point
Episode 26: Kamurocho Hostess Bar Crawl
Episode 27: Chapter 11 Substories, Part One
Episode 28: Mad Dog of Shangri-La
Episode 29: Shibaura Wharf (uncut commentary feat. ChaosArgate)
Episode 30: The Fourth Chairman
Episode 31 (Story Finale): Sunflowers
Episode 32: Chapter 11 Substories, Part 2
Coliseum Roundup + Jo Amon
---