Hey there everybody! It's time to talk about one of the most important studies in art. Figure drawing! Since figure drawing typically involves drawing the nude form, there's a real big general NSFW tag for this topic, just in case. I have put images under dropdowns and spoilers though, should it be necessary.
DISCLAIMER: I am just as much a student as the next artist! All of this information is based on things I've learned in school and from other artists over the years. I'm not perfect by any means, and you might find that there's some things you know that I don't! There are a lot of different approaches to figure drawing. Also, sometimes I'm kind of bad at explaining things, but I'll do my best.
FIGURE DRAWING AND YOU!
What is figure drawing? Why is it important? What tools can you use to study it? All these questions and more shall be answered within!
Starting off with a nice summary from Wikipedia:
A figure drawing is a drawing of the human form in any of its various shapes and postures using any of the drawing media. The term can also refer to the act of producing such a drawing. The degree of representation may range from highly detailed, anatomically correct renderings to loose and expressive sketches. A "life drawing" is a drawing of the human figure from observation of a live model. A figure drawing may be a composed work of art or a figure study done in preparation for a more finished work such as a painting. Figure drawing is arguably the most difficult subject an artist commonly encounters, and entire courses are dedicated to the subject. The human figure is one of the most enduring themes in the visual arts, and the human figure can be the basis of portraiture, illustration, sculpture, medical illustration, and other fields.
Who does figure drawing? Well, all kinds of artists! From classical painters to animators, figure drawing is of great benefit to anyone who might have an interest in capturing the human form in their art. Even cartoonists! After all, cartoons are about exaggerating form, and the best way to learn how to do that is to start with understanding how the human form typically looks.
Some examples of famous artists' figure drawings

Pablo Picasso


Glen Keane

Some examples of my own figure drawing

2012

2014



2015

How to get started with figure drawing
First things first, you're going to need some figures to draw! Now, if you have access to a figure drawing class or sessions with a live model, that can be a huge help. But not everyone has that option. A number of generous artists out there have made their own online figure drawing assistance tools that I personally love to use! There's a bunch of options out there but my personal favorites are from Line of Action (formerly Pixelovely) and Senshistock. Now, with each respective tool, make sure to read their terms of use for the reference material!
Starting figure drawing can be difficult. I first learned the technique in college after spending years as a teenager drawing without reference. But, I had a great instructor who helped me learn how to draw from life and break some of my stubborn habits.
The process
For me, the process generally involves just a few core steps, but a lot of thinking actively about what I'm trying to achieve with each step. For this demonstration, I will be using a reference from a photo by Marcus J. Ranum as provided by the Line Of Action figure drawing tool. I spent about 20 minutes on this sketch.
1. Gesture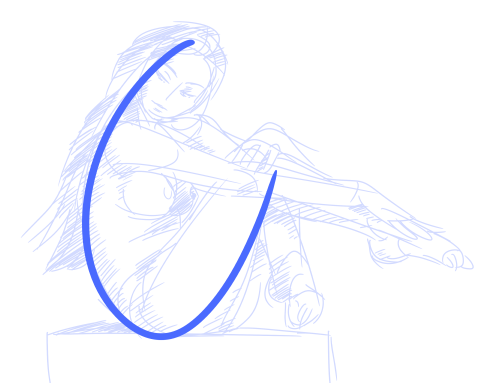 The gestural line is a general sort of guideline for the flow of action or energy within a pose. It will typically follow the line of the spine and the legs. Depending on what kind of pose you're working with, it's also helpful to draw the line of the shoulders and hips.
TIPS FOR THIS STAGE:
Rapid-fire gestural drawing. Get fast. Get angry. Crank that time limit as low as it can go. Do poses in 30 seconds or less. It sounds hard, even impossible, but you can do it! Each time you try you're getting closer to your goal.
2. Finding the form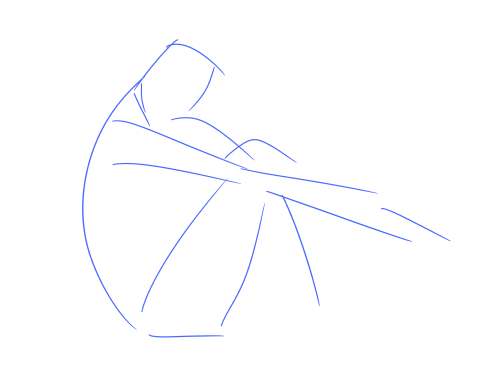 I always try to focus on placement the most at this stage. It may look awkward, and I may sometimes struggle with restarting over and over, but it's a very important part of the process. The reason why you want to find your placement and general form in such a loose way is because you don't want to start getting into details only to find that everything's squashed or sliding off in some weird direction. Don't be afraid to erase a line that isn't right. There's a well known phrase in writing: "kill your darlings." Even when you love part of a drawing, if it's holding you back, it's gotta get the axe.
TIPS FOR THIS STAGE:
Use your pen/pencil as a guideline while you draw. Hold your pen or pencil at full arm's length and measure the distances between parts of the body to make sure you're drawing proportionally. Try holding it completely vertical or horizontal to see the two halves of your figure and compare the placement that way, too. Looking at the "negative space" (the space that isn't taken up by your subject) can also help you measure.
3. Refining shapes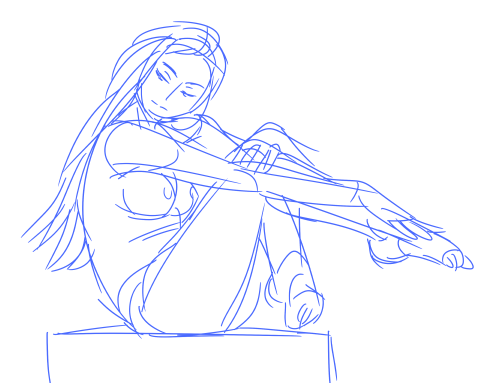 Here, I begin to carve out the shapes further, getting just a bit more detailed. There are multiple ways to approach this–in this particular example, I used a lot of curved lines, but sometimes it can help if you use just straight lines. It may have a bit of a blocky shape, but it can help to highlight the variations in form. Try not to be afraid of hands, feet, and faces! They're really important and while they may be challenging at first, you can only improve with the more you draw them.
TIPS FOR THIS STEP:
Don't get too focused on one area. Carry your attention throughout the whole drawing and your work will be better for it!
4. Finishing the figure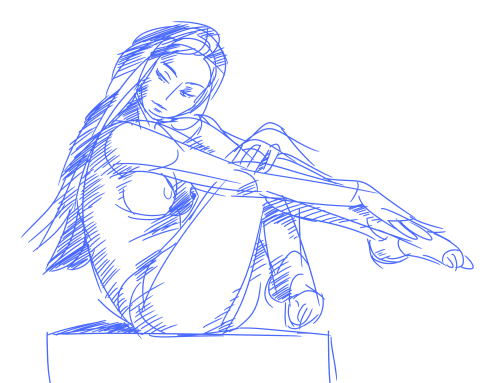 Finishing can go as far as you'd personally like it. For this example I just refined some shapes a little more and added basic shading with hatching. You can correct a lot of little mistakes and really get into the details now. Once you're satisfied, take a look at the finished product and compare it with your reference. Try to think about the steps you took to your finished product and, should big mistakes be apparent, what you might do to avoid them in the future. After all, this is all about learning! Once you've gotten this far, congrats!! You're one step closer to improvement.
FINAL TIPS:
You know all that stuff you just did? Do it faster! Faster and faster and faster! Do like a hundred of these bad boys! Just get wild! Tear through sketchbooks! All that drawing WILL help you grow.
Sometimes you might have off days. Don't think of them as a reflection of your overall skill–think of them as a reflection of your growth. Every time you see your own mistakes, that means you just evolved the way you see. And seeing is half of the artistic process.
Questions?
Feel free to ask for more tips or clarification on anything that wasn't clear to you!
Post any examples of your figure drawing here to share with others! Let us know if you want feedback! Together we can learn how to be our best.
Additional reading
The following materials are available for free online: