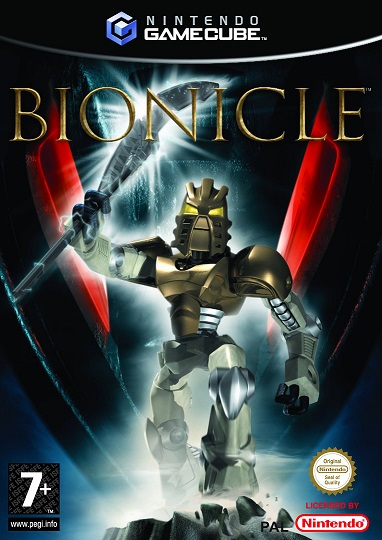 Inaugural LP time. Here we go.
What is BIONICLE: The Game?
BIONICLE (hereafter "Bionicle") is a franchise about six robots with magic powers fighting an evil spirit to protect other, smaller robots without magic powers. The evil spirit is also a robot. It was created by Lego in 2001 as their first original story-focused product, and was very successful, running for almost 10 years.
BIONICLE (hereafter "Bionicle: The Game") is a video game released in 2003, developed by Argonaut Games and published by EA. It kinda-sorta depicts the Bionicle storylines from 2002 and 2003, and kinda-sorta from 2001 as well.
Ah, so this is a nostalgic trip back to your childhood, then?
I've never seen Bionicle: The Game crash or softlock. Its checkpoints work properly, and it saves data correctly. That's about all I can say in favor of it. It is blatantly missing at least half of its levels, the levels that are there are a slog, and it would be decent-looking if it were a PS1 game.
But it's short, it's goofy, it emulates well, and bad games are kind of my thing. So that's what I'm playing.
By my estimates, most updates will come with a bonus video or two, covering some lore or other information the game doesn't cover. Questions? Comments? Concerns? Short stories? Post them, and I will respond, as is traditional.
Now come and journey with me, to an island paradise where the run cycles are silly, the combat is simplistic, and the sheer audio compression can drive lesser men to madness…
Table of Contents:
Part 1 - Tahu's Quest

Watch the video
Bonus 1: Toa Profiles
Bonus 2: The ICONIC Legend of Mata Nui
Part 2 - Kopaka's Quest
Part 3 - Henshin Heroes
Part 4 - Gali Nuva's Quest
Part 5 - Pohatu Nuva's Quest
Part 6 - Onua Nuva's Quest
Part 7 - Lewa Nuva's Quest
Part 8 - Tahu Nuva's Quest
Part 9 - Finale: Takanuva's Quest