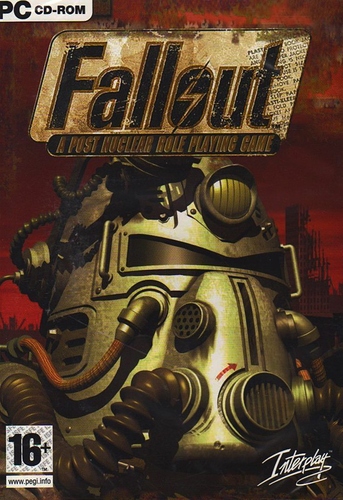 Check out the intro

Fallout 1 is an RPG created by Interplay, (Who closed down but members went on and became obsidian) There were two sequels to this game, (2, and New vegas) as well as a couple of spin offs, (Tactics, and brotherhood of steel) And a couple of games made by someone else that aren't very good and we'll forget about them.
The main premise is america became such a fascist place and so ready to kill anyone that nuclear war happened and people in america mostly survived by hiding in vaults. One of these vaults, Vault 13, is the one the player starts from and is having a problem, the water chip failed and has 150 days of water left. The Vault decided to send out one person to try to get a second one.
This is where we come in.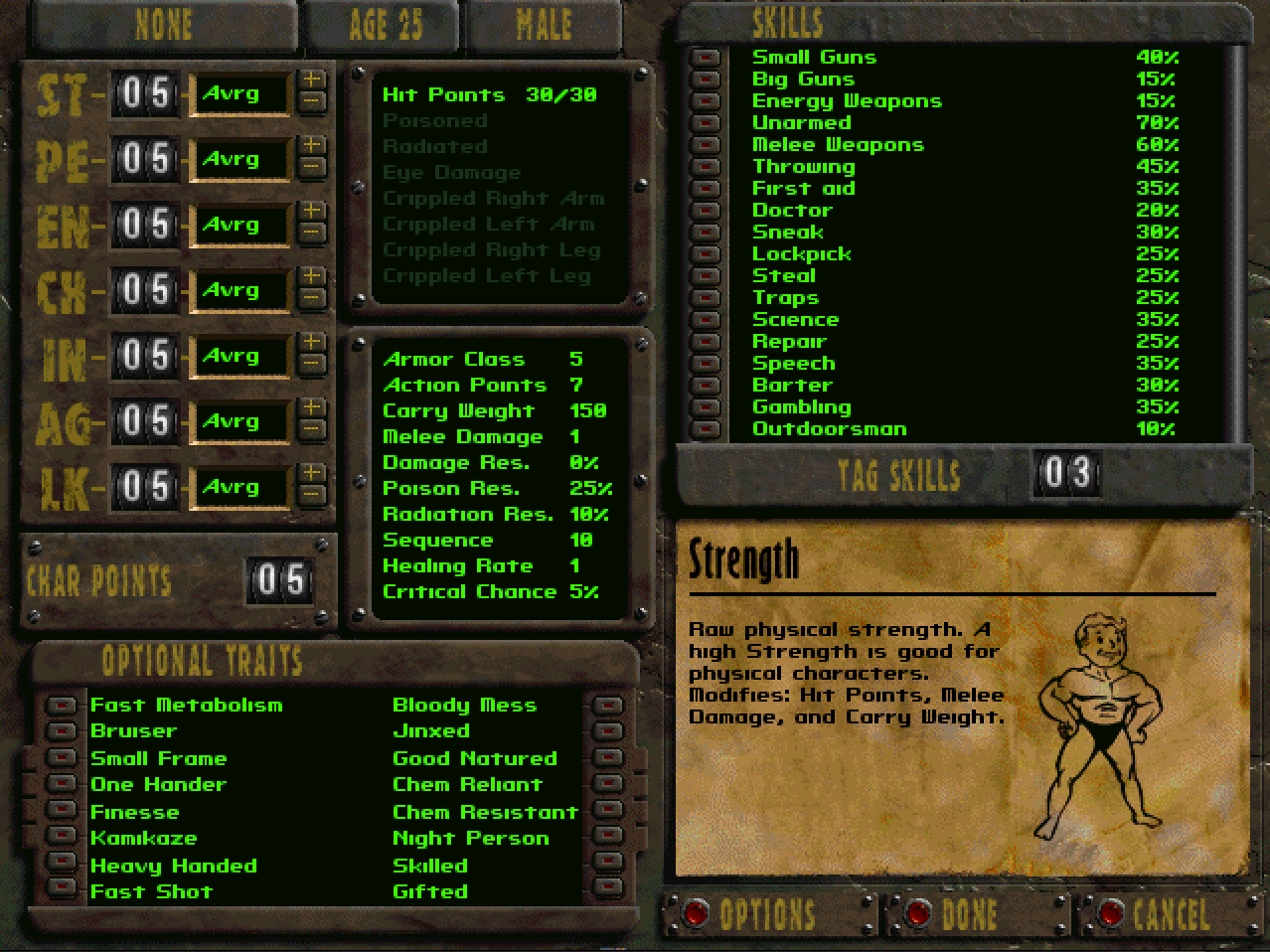 And I do mean we! Because I'm not going to pick the starting stats, skills, and traits. You are! I'll play the game dealing with these choices. Note: I won't go for low intelligence, It's really ableist and I don't want to deal with that.
Q: So We'll choose any stats we want?
A: Sort of, stats can max out at 10 and get as low as 1 (Unless the gifted trait is chosen then it can only get as low as 2.) Fallout starts players with 5 at everything and 5 more points, lowering stats will give more points to play around with but of course we'll get penalties
Q: Can we decide on the character's name? Age? Gender?
A: Yes. Though a name can only be 12 spaces long, age is between 16 and 35, and since this is the 90's it only lets players be male or female, also there's not a whole lot of places were we can attempt to romance someone in this game (even then it's only heterostuff so who cares.)
Q: Can we choose morality?
A: If you want to. I'll play the character with a certain morality.
Q: What are traits?
A: So all the fallout games have these (Except the ones made by other people who we don't care about) A trait has both an upside and a downside. I'll go over each one later
Q: So choosing skills, what's up with that?
A: Basically players are allowed to tag 3 (4 if the player later gets the Tag! Perk) skills, not only will these skills get bonus points to them but also for every additional point added to them will count as 2 points Players get more skill points on level up.
Q: Will readers get to pick perks?
A: Maybe, could be fun if that was done but if people are feeling merciful they could let me decide them
Q: What do all these things do?
A: Ah glad you asked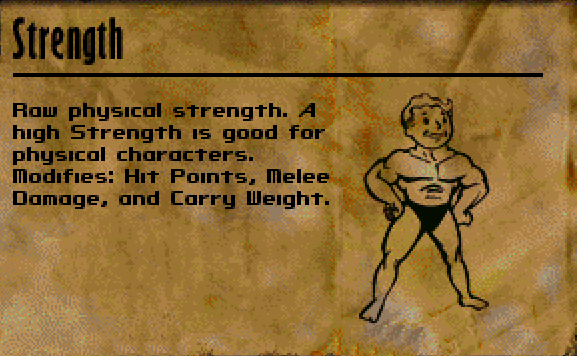 Like it says the strength stat will modify hit points (Along with endurance) Carry weight, and melee/unarmed weapon damage (Though you need a lot for that to make a big difference) weapons also need a certain amount of strength to use them but really 90% of the weapons don't need more than 5. We're going to get a lot of stuff though out the game so having a lot of strength will help with that.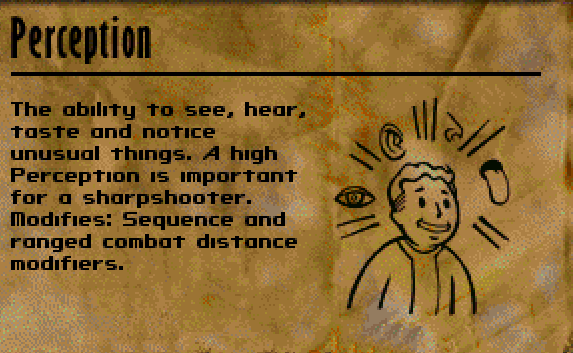 Perception is great if we're going for a ranged weapon build, and good even if we don't. Sequence will not only decide who goes first a turn but high enough will let us lap enemies.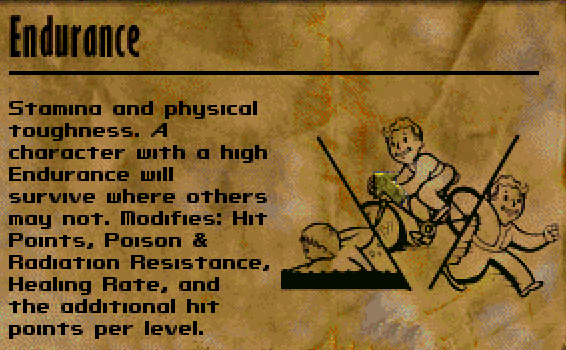 Endurance helps us live. Gives us more hitpoints per level and also resistances, there's also natural healing but that happens every 3 hours of rest/travel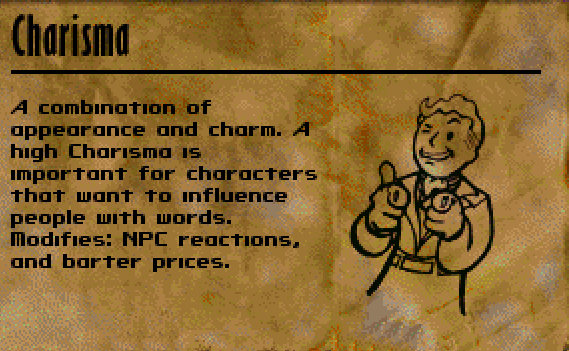 Will help us talk to people. Though having a high speech skill can make up for that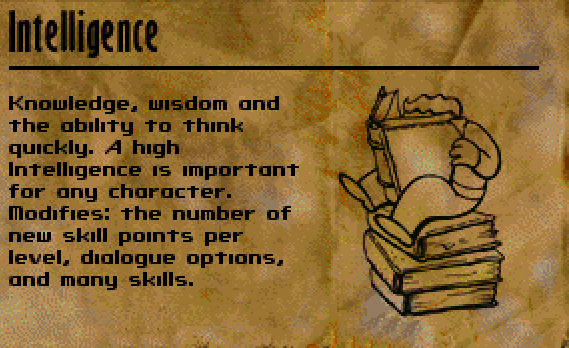 possibly the most important stat for any build. and also not really a thing that is measurable in the real world. Regardless more int means more skill points!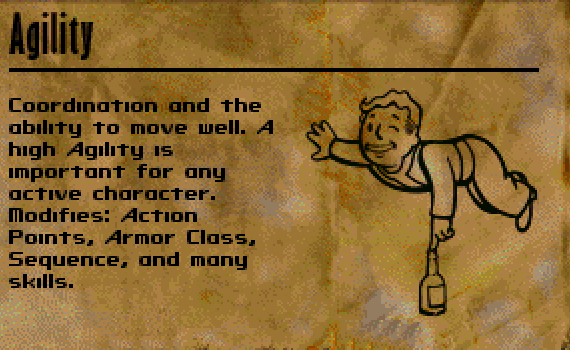 We'll need this if we do a lot of combat (We probably will) basically every turn we have a number of action points to do things, with a max of 10 (Though only if we get agility to 10) Armor class is our skill to dodge attacks and also pretty useful though armor will increase this. 5 agility will get us 7 action points which is good enough for most builds.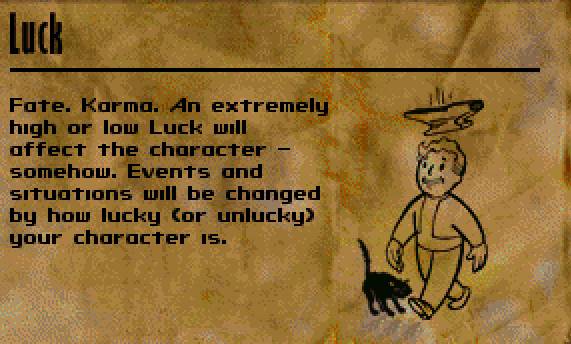 An important stat, a lot of things are affected by luck, such as critical hits (1% chance for every point of luck) To critical failures (Yep this game has those) To random encounters.
Now on to skills, skills can go up to 200% though around 150% is usually enough to carry players though the game
Small guns: Most guns are in this category so it's a good idea to have this skill tagged
Big guns: 3 guns are in this one but they do a lot of damage but we won't get any early on
Energy weapons: All the weapons in this one are very powerful but again we won't get any early on.
Unarmed: There are fist weapons that use this skill so technically not unarmed, regardless it's awesome to invest in early on, Need the best weapon in this category to keep this skill good in the endgame.
Melee weapons: Non fist melee weapons anyway. There's a lot of weapons in this category and they don't cost a lot of action points to use similar to unarmed
Throwing: Sucks. Not only do you need a lot of them to be useful but also are expensive and encounters don't give a lot
First aid: Lets the player heal hit points for free, useful if we don't have healing items.
Doctor: Like first aid but will also heal broken limbs. Also takes more time in game.
Sneak: Lets you be sneaky, works better than in new vegas. (Seriously why didn't it work in new vegas unless I got a stealth boy, why the hell-)
Lockpick: Lets players unlock things. Don't do this while people are looking if you're unlocking something you're not supposed to
Steal: lets us take things from people, high enough lets us not care about money.
Traps: Lets players disarm traps, which don't really appear until endgame.
Science: Not as useful as new vegas, since it only lets us use computers good.
Repair: Lets players make things work.
Speech: Make talk to people good. A lot of interesting conversations will happen with a lot of speech.
Barter: Lets players buy and sell things at better prices never really necessary but useful.
Gambling: A skill a lot of people like to believe exists. There's two gambling places in the game and we won't have to worry about money if we get this skill high enough.
Outdoorsman: not only decides what random encounters we get but also decides how many of them and also decides on the chance to get dehydration damage. Eh. Even with low outdoorsman skill it really doesn't affect much.
certain books will increase skills. though there are only books for first aid, outdoorsman, small guns, repair, and science. They only let skills go up to 91% Tagging certain skills will give bonus items at the start of the game related to that skill.
Now for traits, We pick 2 and have to deal with them thoughout the entire game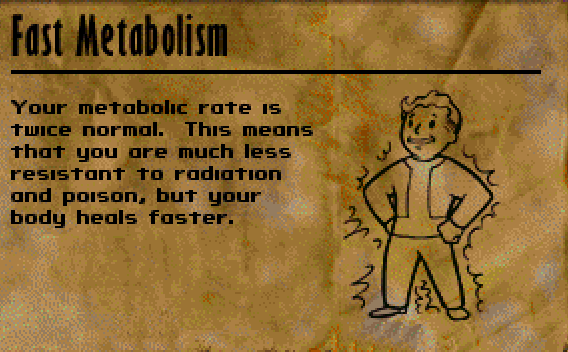 Don't really care for this one, natural healing isn't that useful, poison and radiation doesn't happen a lot in this game.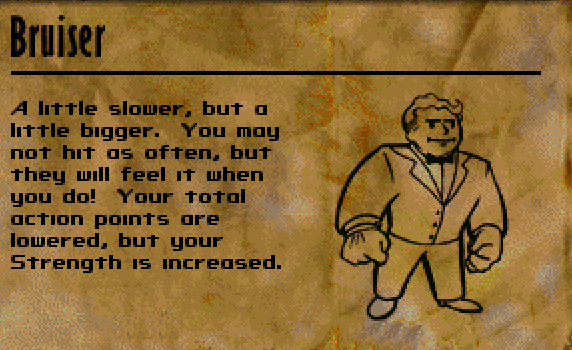 If we're going for a melee build this is good. it increases strength by 2 and decreases action points by 2 which isn't bad if we have max agility since those two extra points aren't use that much.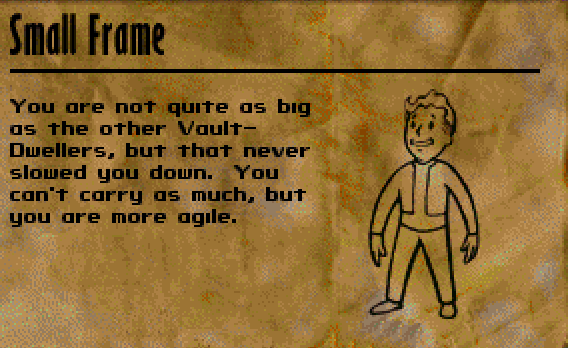 Gives us only 1 point of agility at the cost of 50 carry weight. which is like 2 points of strength. that sucks.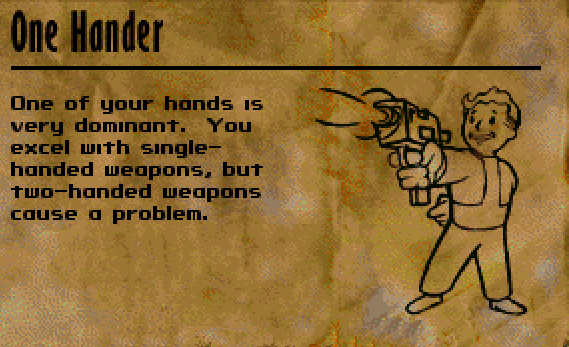 We would get a 20% bonus to hitting with one handed weapons but a -40% chance to hit with two handed weapons. Most end game weapons are 2 handed so unless we go unarmed this might not be the best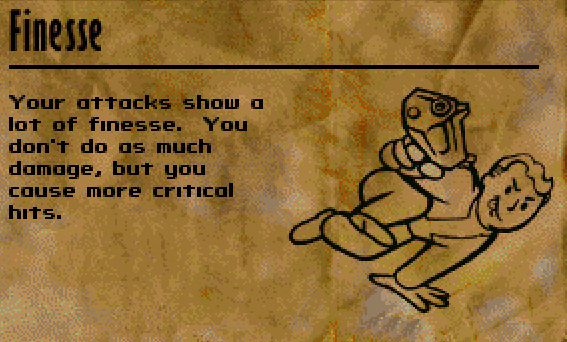 -30% on non critical hits but +10% crit chance. Not being able to do as much non crit damage will be a problem early on but later in the game crits become super important.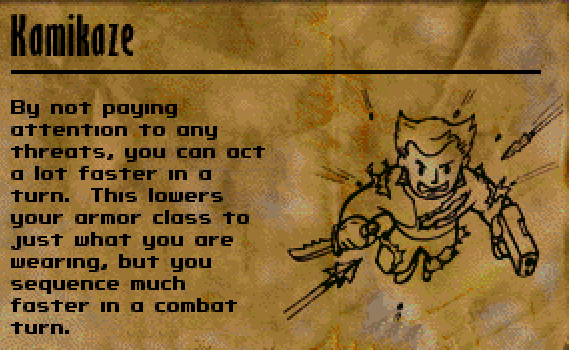 Oof this one's name. Anyway More sequence is helpful but not having any natural AC is a problem in both early and late game.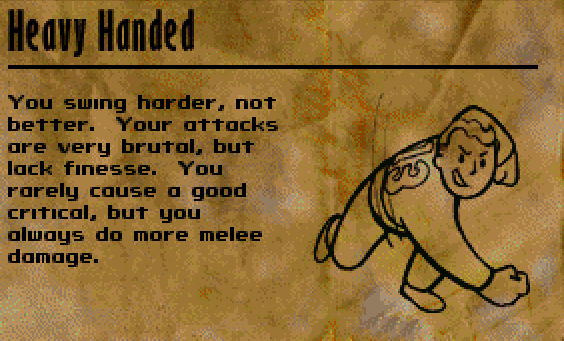 The description for this one is a little misleading. It doesn't decrease crit chance it decreases crit damage. The Melee damage increase isn't too good even if we go for melee/unarmed. (only added 4 points to damage)
So most weapons in this game can do an aimed shot, think VATS from new vegas. We won't be able to do that if we chose this trait but the decreased action point cost is pretty good.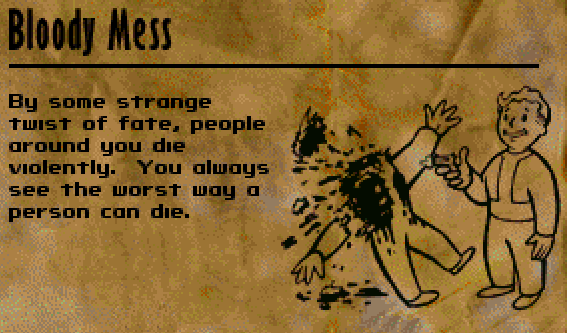 Normally we would have to deal enough damage to a character to see the messy death animation. This makes it so that when the player character (And only the player character) Kills someone we can see the messy animation. And that's all this trait does so if we wanted a trait that didn't have a downside this is it.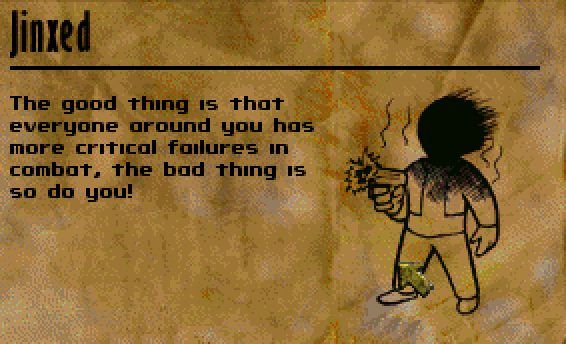 This turns the game into a chaotic mess. an enemy my try to punch us and will trip so badly they die. A dog may break it's leg trying to bite us. A guy may blow himself up with his own rocket launcher. Note that if we have really high luck this won't really affect us. And yes crit fails will happen without this trait but it's a once or twice in the game thing.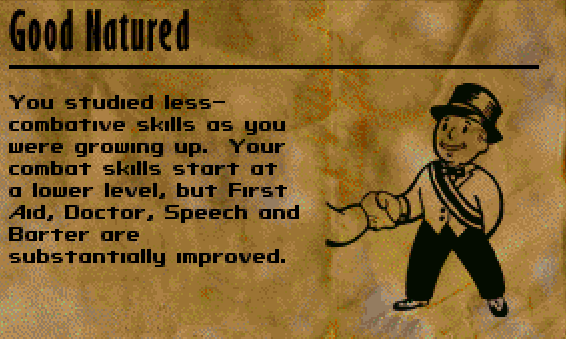 If we wanted to make a less combat focused character this will help. giving us a starting boost with the cost of a starting reduction in combat stats, though we can raise those easily though tagging and reading skill books.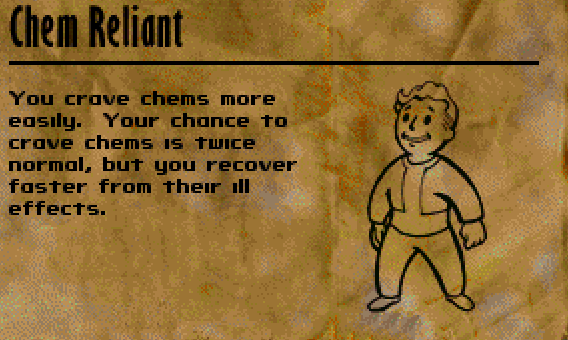 What they mean by ill effects is withdrawal which happens when drugs were off. Addiction is pretty bad since those will last a long time if we don't take anymore and happen randomly.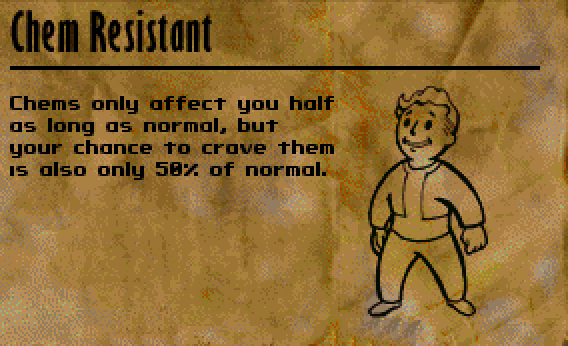 Chems usually last for several hours in game and if you need them you would probably only need them for a short amount of them, Not bad.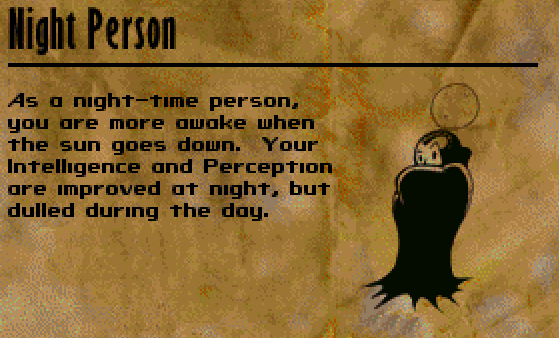 Ehhhhh really not all that good Since most people you want to talk to will be awake during the day and I don't know why you would need a lot of intelligence or perception during combat.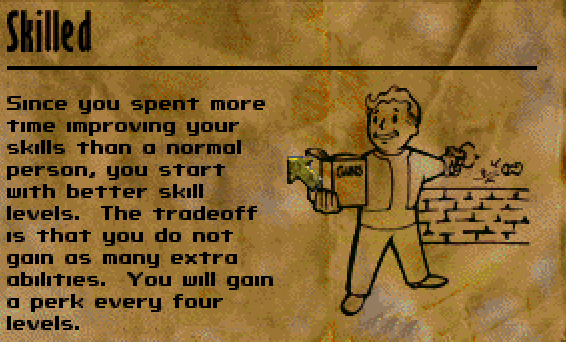 Not good. Perks are great and normally we would get them every 3 levels and more skill points doesn't help that much.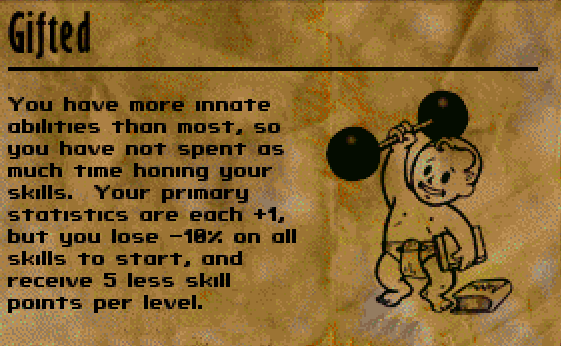 This one is pretty good. Since stats are basically set in stone at the start with few very expensive chances to raise them. And it will give more stats to play around with at the start
And that's everything we need to know right now. So the stats that people want me to have the most will be the highest ones I'll raise and the ones people want the least will be the one I decrease the most. (With the exception of intelligence) The traits and skills people want the most is the ones I'll go with. So get to voting.