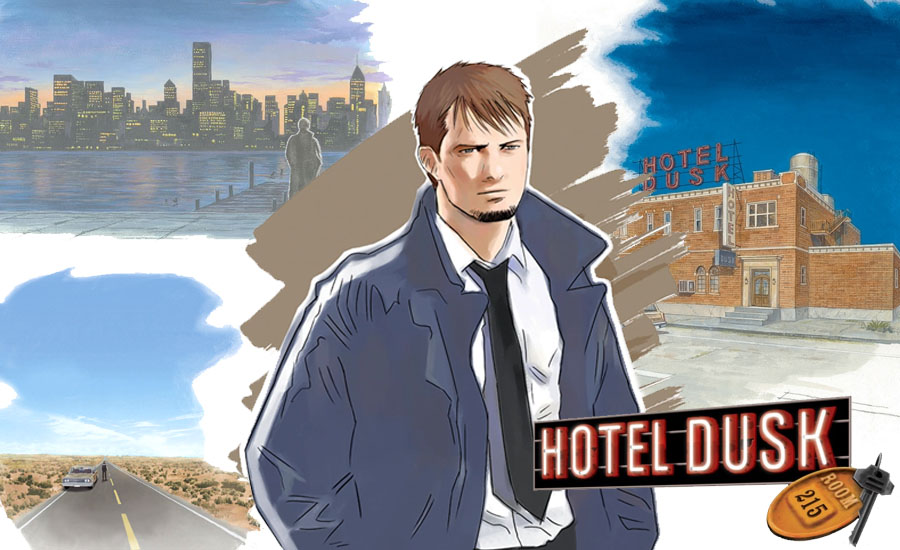 Hotel Dusk: Room 215, released in Japan as Wish Room: Angel's Memory, is an adventure game/visual novel released for the Nintendo DS in 2007, published by Nintendo and developed by CING. Marketed as an "interactive mystery novel," the game is one of those crazy DS games that has you holding the system sideways, much like a book, and is one of the only games to use the little-known DS Rumble Pak. The game received some popularity, as it was part of a small renaissance of story-based adventure games popping up on the DS, joining peers such as Ace Attorney, Trace Memory/Another Code, and Professor Layton. Like Trace Memory, its spiritual predecessor by the same developer, Hotel Dusk is known for the unique ways it uses the DS' hardware and features to present and solve puzzles. Additionally, the game is also notable due to its artstyle, where character sprites are rotoscoped in a pencil-drawing style that drew many comparisons to the music video for Take On Me.
The game is set near the end of December 1979 and follows Kyle Hyde, an ex-NYPD detective who quit the force after an altercation with his partner during a case gone bad. Currently, he works as a door-to-door salesman in California, while using his detective skills to help certain clients find things on the side. One such finder's job takes him to a small hotel in Los Angeles, where over the course of a single night, he unravels a web of mystery that not only involves most of his fellow guests, but may help him get closer to his estranged partner.
This LP is going to be a 100% run, get the best ending, everyone's happy. I have only two rules:
No spoilers of any kind, even in tags. This is a mystery game, after all! Speculation is alright, but don't get too wink wink nudge nudge.[/ur;]

No Hotel California references, you're not clever, shut up.
Updates