"Now entering New Town, home of Cabalco Industries' immense corporate Headquarters! Riots and civil uprisings are rarely a problem anymore! Overlooking the lovely burning river of White Rock, New Town is the near-perfect picture of a city only gently-oppressed by a giant, amoral megacorp! Sure, we admit that there are still the occasional ritual sacrifices, or kidnapping-by-dark, and yes, sometimes people disappear never to be seen or heard from again, but the streets are mostly safe and clean, and our economy is on the rise with only a few minor hiccups. We're New Town! Cabalco is our friend!"
We're entering the endgame here, so things are going to be getting more serious, at least as far as enemy count and placement goes. Fanatics are going to start giving way for the occasional Prophet, and there's just going to be more and more Shikari and Drudge Lords. This is also the point where the developers forgot to give unique names to the levels so a good half of them are labeled "Cabalco Industries".
The Weapons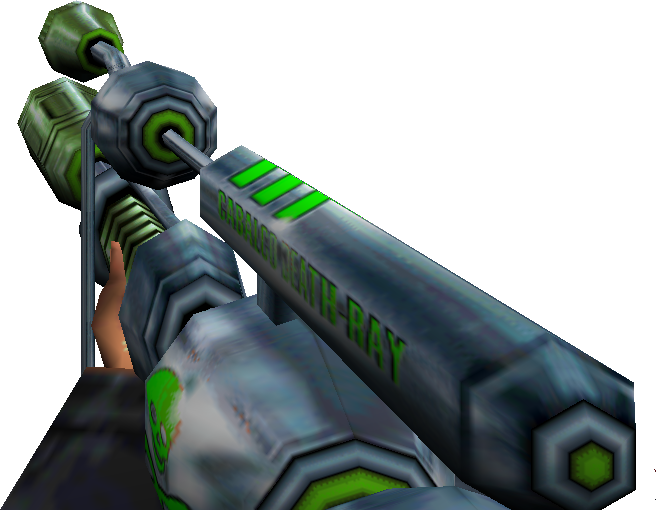 CabalCo Death Ray
A new energy weapon, developed by CabalCo's Advanced Weapons Division to be used in urban warfare by allowing ricocheting shots from behind cover without losing effectiveness. The design is based on the ray guns used by the Martians in 1996's Mars Attacks! (info thanks to your evil twin). Primary fire shoots out a green laser that bounces off of walls and deals a decent amount of damage to whatever it hits - including the user, so some care is required before using (though not too much, it's not Daikatana's ion blaster that actively targets the user after two bounces). Secondary causes the weapon to tremble for a bit before emitting puffs of smoke in a cone at a decent rate, which deals a lot of damage but with incredibly short reach. Uses batteries as ammo, which Caleb can carry 500 of; primary uses 1 unit per shot and secondary uses 2.