I had something to share. I couldn't see anywhere obvious to put it. It's here now. My little creation.
Playing Kerbal Space Program last night while I stayed up for a night shift, I got the idea to land a mobile lab on Minmus, the smaller and lighter of the home planet, Kerbin's, two moons. So I did. And it was great. I got 4.5k science out of it - more than I'd earned to that point combined.
Then I tried to take off. Turns out, the engine I'd provided was only powerful enough for the return vehicle to hover about two metres above the surface of Minmus. So that was awkward. Bob and Jebediah Kerbin were stranded.
The rescue mission involved an entirely new rocket and lander, since I didn't trust the old one, and went well until it ran out of electric charge on approach. I'd, uh, forgotten to pack any solar panels or spare batteries and the engines I'd attached weren't charging the internal power. So I had to steer down using only vectored thrust, landing on my nose about 200m from the original lab while swinging wildly from side to side like a drunk in a mosh pit. Valentina Kerbin was here to save the day. The first crew tilted their own weak-ass little ship in the right direction and gently wafted over to the rescue ship, before spending about half an hour trying to jump on it to board from the wrong god damn side of the nose cone, which was stuck straight up in the air with no way to rotate it down.
Then I took off, without exploding - a major bonus. It involved a lot of gently rocking back and forth, timing rocket bursts for when the ship was pointing vaguely upwards. Finally we launched slowly into the air and started the return journey for all three of my Kerbonauts… only for me to h*ck up the landing, picking a reentry periapsis about 10km too high. Instead of swinging boldly into the atmosphere and landing gently like a 3,000 metre-per-second turd from the sky, we bounced off the atmosphere and went back into orbit.
Six times.
Finally, after slowing down just a little on every approach, I finally got this screenshot on the very final approach before the successful landing - a moonrise and sunrise at the same time, during reentry. It was pretty.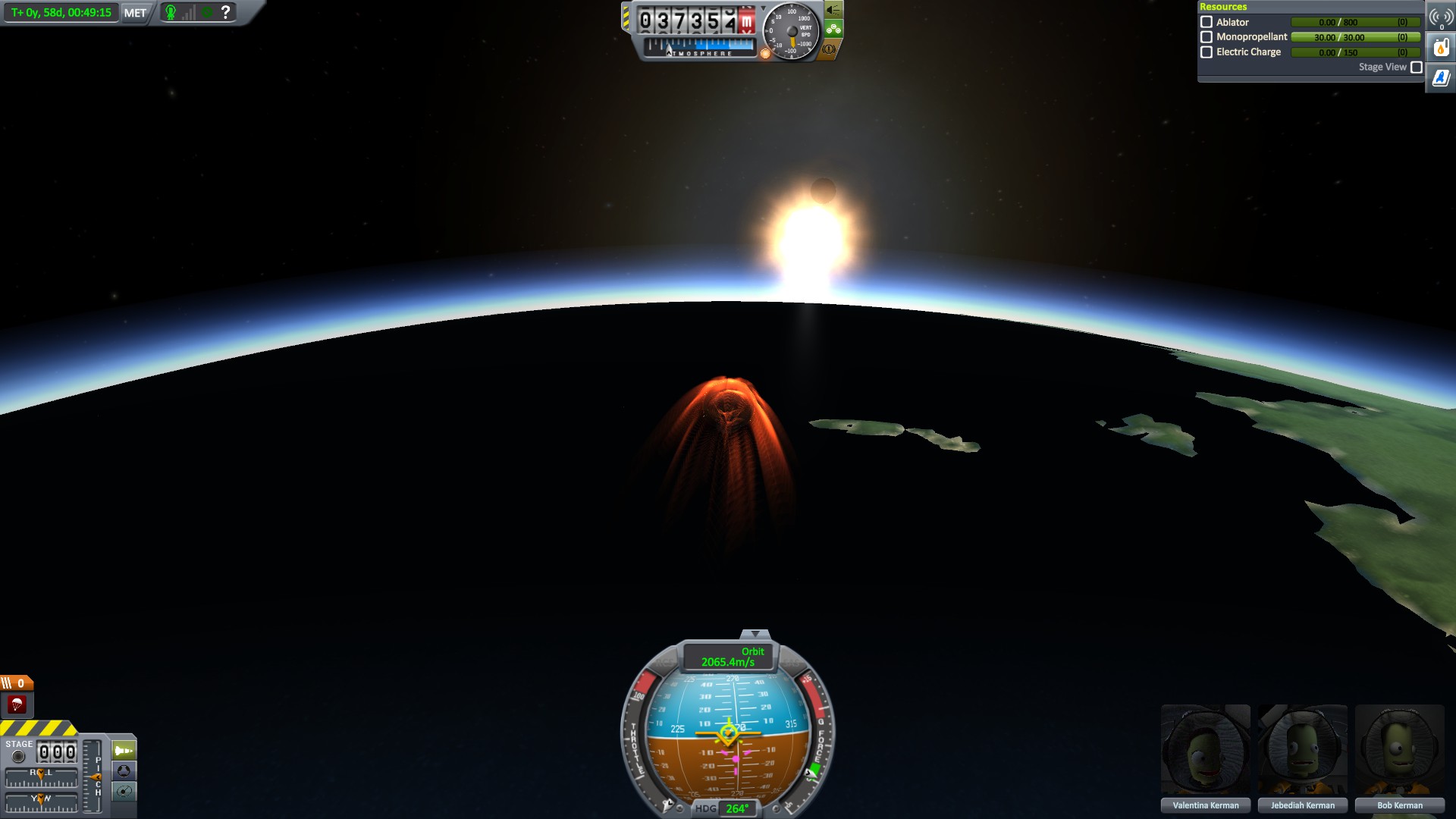 –
So. Show me your random screenshots and tell me a story.